July 7, 2016 | Latest News, Press | Margerum Wine Company
Wine Spectator features Doug and Marni's home
By Mark Morrison http://www.winespectator.com/webfeature/show/id/Doug-Margerum-Santa-Barbara-kitchen
It's a Santa Barbara Day at Doug Margerum's house—the vintner and restaurant owner's weekly ritual of working from home and tending to his business in town. Margerum and his wife, Marni Blau, rise early to walk dogs Gabi and Homer, strolling the historic Upper East neighborhood where they have lived since they married in December of 2014. Upon returning to their stately Spanish Colonial Revival home, they whip up lattes in their Breville espresso machine.
Margerum, 55, made his name in Santa Barbara with the Wine Cask, a Central Coast culinary mainstay since the mid-1970s that currently holds a Wine Spectator Best of Award of Excellence. He sold the restaurant and adjacent Intermezzo café in 2007, only to resurrect the business two years later as it stood on the brink of ruin. But since 2001, Margerum has focused most of his attention on his namesake winery, located in rural Buellton in the Santa Ynez Valley, 30 minutes north of his home. (In addition to the Margerum label and its subsidiary, Barden, he makes wine for Happy Canyon Vineyard and Cent'Anni Vineyards.)
If all seems right in Margerum's world these days, his wife might have something to do with it. A native New Yorker, Blau was having drinks at Intermezzo with a friend five years ago when Margerum sat down next to her. "We started talking, had lunch the next day and have been together ever since," she says.
Blau, an interior designer, spotted the listing for this two-story house as soon as it hit the market, and the couple made an offer the day they saw it. Designed in 1929 by architect Winsor Soule, the 3,126-square-foot home included three bedrooms, three bathrooms, a butler's pantry and maid's quarters—yet its small, dated kitchen lacked the charm and character of the rest of the place. "It felt very confined and dark," Blau says.
A structural engineer helped them remove a wall between the kitchen and maid's room, creating one large multipurpose space. They installed new electrical wiring and plumbing and reconfigured the floor plan, leaving the original six-burner Viking stove where it was but moving the refrigerator to the adjacent wall. This way, they could build the lower cabinetry into an L shape with more counter space, providing the perfect niche for a built-in banquette. "We definitely wanted a nook there," says Margerum. The table was custom-made from the same gray-veined white Calacatta marble as the counters.
To unify the rooms, Blau installed Saltillo tile throughout the space. Hand-forged black iron drawer pulls and antique light fixtures echo the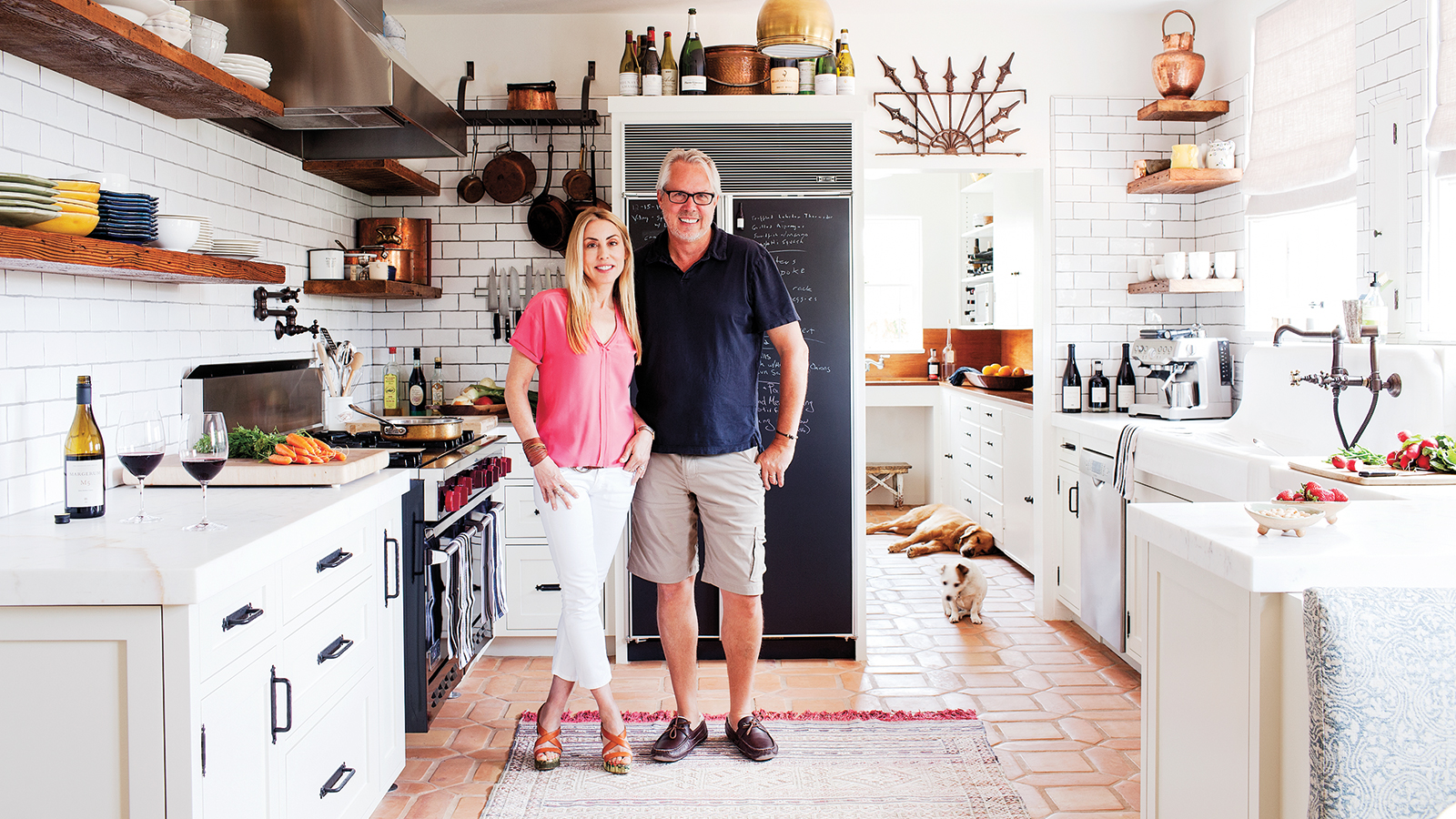 home's Spanish architecture. Subway tile with contrasting grout adds texture and depth. A vintage Pennsylvania farm sink, which Blau found online and had reenameled, now includes a garbage disposal.
"I didn't want it to be generic," Blau says. Instead of upper cabinets, she chose free-floating shelves made of reclaimed Douglas fir. "And this way, everything is within arm's reach."
Ever the practical chef and winemaker, Margerum likes to have everything handy when he cooks. "The French term is mise en place," he says. "You don't want to be prepping while guests are here. If everything is all ready to go, you're not nervous about putting a meal together."
When the two are home alone, they take turns cooking or simply lay out a spread of cheeses, charcuterie and crackers. But when guests come over, Margerum says, "We'll cook together. We're really good at it."
"We've gotten better," Blau interjects. "He is much more professionally skilled, and sometimes he gets bossy—which is why we usually take turns!"
The couple have finished phase two of renovations: a game room, a pool dressing room and, of course, a wine cellar. "It holds about 1,200 bottles," says Margerum, who keeps the majority of his cellar at the winery in Buellton.
"I'm as guilty as the people whose wine cellars I used to go to and say, 'You can drink every bottle from now till you die and you'll never drink all this wine.' Now I have the same problem."
Some problems are worth having.