Private Label Program
A new approach to affordable and delicious wine.
About Our Program
It's never been easier to create your own customized winefor your restaurant, retail store or event.
With access to avariety of price points and styles, you will be able to accesshigh quality wines at lower prices, giving you a higher profitmargin and the ability to build your own brand. TheMargerum Wine Company Private Label Program allows youto access better wines at lower prices with a higher margin.
Large distributors are not setup to deliver premium wines athigh values. Because these wines come directly from uswithout a middle man, you are getting great wines that over-deliver for their price and value.
Why should you consider a private label wine program? You'll be able to access high quality wines at lower prices, giving you a higher margin and ability to build your own brand.
Many restaurants and retailers are finding that private label programs give them a secure source of product while increasing revenues. As part of this program, we offer premium wines and low minimums (56 cases per SKU).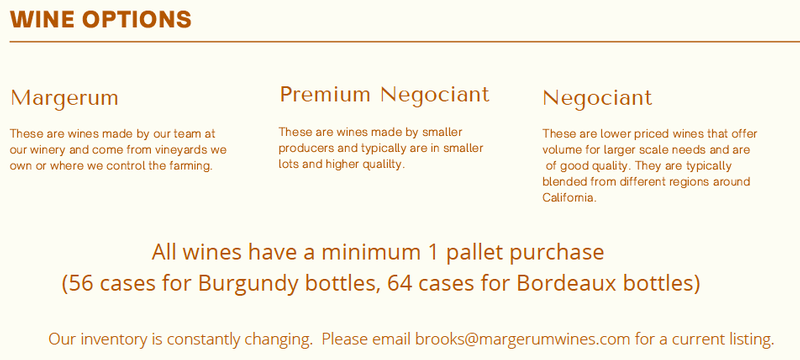 Current Inventory and Pricing
CLICK HERE for our current list of products. If there is something you want but don't see, please email brooks@margerumwines.com
Label Examples

For More Private Label Example Click Here
Contact Information
Please call Brooks Van Wingerden at 805-895-4084 or email brooks@margerumwines.com for additional information.
Private Label Clients Press