Margerum Estate Vineyard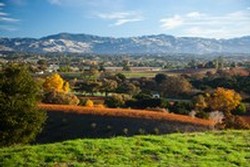 The Margerum Estate Vineyard is located in the newly designated Los Olivos District AVA in the Santa Ynez Valley. Margerum Wine Company signed a 20 year lease with the Honea family for the property in February 2016. Margerum transformed the 18 acre vineyard to specialize exclusively on Rhône grape varietals, with the goal of becoming the premier grower of these varietals in Santa Barbara County. The acreage is divided between limestone hillsides and gravelly alluvial flatlands along Alamo Pintado Creek.
The first grafts and new plantings occurred in spring of 2016 and the first harvest was in 2017. The Margerum Estate Vineyard grapes are grown for our Margerum M5 white and red as well as for our single vineyard Syrah program. The varieties planted include Grenache, Mourvèdre, Cinsault, and Counoise as well as five hillside blocks planted to different clones of Syrah; some own rooted and some co-planted with Viognier. These red grapes from the Estate Vineyard will be the backbone of our M5 red wine blend.
Grenache Blanc, Marsanne, Roussanne, Viognier, and Picpoul Blanc from this vineyard will be the primary source for the Margerum M5 White Rhône varietal blend.
The grape varieties, clones and rootstocks planted were chosen by Doug Margerum and Michael Miroballi in consultation with Ben Merz of Coastal Vineyard Care Associates. Coastal is also the viticulture manager for the vineyard.
---
Region: Happy Canyon of Santa Barbara AVA
The unique microclimate of the Happy Canyon of Santa Barbara AVA is essential to the character of the wines that are produced from these soils. Spanning 23,941 acres at the easternmost end of the Santa Ynez Valley, north and west of Lake Cachuma, the region achieved it's AVA status in November of 2009. The countering effect of warm, sunny afternoons and cool, marine-moderated evenings ensures an extended growing season that encourages the maturation of finely balanced fruit, with physiological ripe fruit and acidity. Because the Happy Canyon AVA sees higher temperatures than other neighboring areas, it particularly excels with Bordeaux varietals that require assertive solar energy to achieve peak ripeness, as well as Rhône varietals that also thrive in such climes.
The region is comprised of ancient upland soils, primarily clay loam, riddled with cobbles of red chert and serpentine. These deposits were swept down the canyon over thousands of years, then uplifted and weathered for thousands more. The result is a shallow, low-nutrient topsoil supported by an impervious clay pan that forces the vine roots to grow laterally. In this environment, the vines are stressed for nutrients and water. Root growth and vine vigor are limited, ensuring smaller vines and low yields—a perfect combination for the development of intensely flavored grapes.
During the Prohibition a simple alcohol was produced in Happy Canyon. Legend has it that folks would "take a trip up Happy Canyon" to purchase the beverage and the name stuck.
---
Grassini Family Vineyards
In 2002 the Grassini Family decided to plant vines on the property they had owned for decades and they called upon Coastal Vineyard Care to help them realize their dream. Ben Merz, the vineyard manager, provides daily direction to the entire team. Vineyard foreman Manuel Cardoza and his dedicated crew do all the heavy lifting that makes it all possible. Manuel and his crew planted every vine on the estate and it is their dedication that has helped create one of the vineyard jewels of the renowned Santa Ynez Valley.
---
Happy Canyon Vineyard
Happy Canyon Vineyard is nestled into the undulating hills of the beautiful Piocho Ranch, home to the Barrack family. The Barracks have taken great pride over the years in being stewards of the land and have created something that is unique to the beauty and richness of the place. Happy Canyon's verdant hillside vineyards, abundant sunshine, and oak-studded grasslands make it one of the area's most picturesque viticultural areas.
---
McGinley Vineyard
McGinley Vineyard (formally known as Westerly Vineyard) stretches across 80 acres on the eastern edge of the Santa Ynez Valley. This was the first vineyard to be planted in Happy Canyon, in 1996. What is striking about McGinley Vineyard is the profound lack of vigor with which the typically energetic sauvignon blanc vines grow--a direct result of the poor soils there. Many sections have only a foot and a half of topsoil, beneath which is fractured shale, and in one block, serpentine rock. The wines from these poor soils are amazingly flavorful because the vine's energy is concentrated on maturing its fruit, rather than on producing leaves.
---
Star Lane
Planted to 200 acres of Bordelaise varieties, the vineyard differentiates itself from other parts of Santa Barbara County by sustaining warmth. Furthermore, with vineyard elevations ranging from 750 to 1550 feet above sea level, microclimates emerge within the site to produce a beautiful and diverse palette that helps create a distinct range of estate fruit.
---
Tommy Town
This vineyrad was planted between 2006 and 2007 with 12 acres of red Bordeaux varieties. In 2011, eight additional acres of Cabernet Sauvignon were planted on a southern extension of the Tommy Town estate, as well as nine acres of Sauvignon Blanc and Merlot just west of Tommy Town. The soils here are interspersed with clay loam topsoils. The magnesium silicate content limits yield while enhancing terroir expression and varietal elegance. All these factors make Happy Canyon an optimum mesoclimate for Bordeaux varieties.
---
Region: Sta. Rita Hills
The Pacific Ocean's marine layer and afternoon ocean breezes traverse the coastal valley corridors between the Purisima Hills and the Santa Rosa Hills, creating the perfect environment for growing Pinot Noir, Chardonnay and other cool climate wine grape varieties.
Although the first vineyard in our region, Sanford and Benedict, was planted in 1971, it was not until 1997 that Wes Hagen and his group of merry marauders could be seen tromping through the hills of our valley taking soil samples, studying elevation levels and compiling data on degree days.
With a total area of 30,720 acres, the Sta. Rita Hills AVA is home to over 59 vineyards, totaling 2,700 hundred acres planted to Pinot Noir, Chardonnay and 18 other cool climate wine grape varieties.
---
John Sebastiano
John Sebastiano is a newer vineyard on the eastern side of Sta. Rita Hills with a variety of microclimates. The relatively windy location limits yields resulting in concentrated flavors. The vineyard site is series of rolling hills with windswept ridges and gentle slopes. The soil is a blend of sandy loam with integrated limestone benches. The ideal southwestern exposure combines to yield fruit of uncommon complexity and concentration.
---
La Encantada
Located seven miles from the ocean, La Encantada Vineyard is one of the westernmost vineyards in the Sta. Rita Hills and is one of the coolest sites in the region. La Encantada is one of the first certified organic vineyards in Santa Barbara Country. The vineyard is planted on a ridge which straddles the Santa Ynez River Valley and is open to the full impact of the cooling afternoon maritime breezes.
The 100 acre vineyard was planted in 2000 by Thekla and Richard Sanford to 96 acres Pinot Noir, 1.9 acres Pinot Blanc, and 1.5 acres Pinot Gris. The soils of the La Encantada Vineyard are derived from the Monterey Formation. The calcareous and siliceous soils include Chamise sandy loam in block six and both Tierra clay loam and Ballard fine sandy loam.
Purchased in 2011 by Hillside Road LLC, the tradition lives on through carefully managed Certified Organic farming and close relationships with a small number of passionate winemakers striving, successfully, to produce some of the most revered wines in the AVA.
---
La Rinconada
La Rinconada is planted exclusively with Chardonnay and Pinot Noir. The vineyard sits on a well-drained, west facing steep slopes. The soil is comprised of Santa Lucia shaley clay loam. Due to the heavy Pacific fog which pools in this valley vineyard, it is an ideal region for cool-climate varietals.
---
Radian
Radian vineyard is located on the far western edge of the Sta. Rita Hills where it sits on dramatically steep slopes with large amounts of diatomaceous earth in the soil. Wide sections are planted with exposure to the high winds which cool the vineyard and deprive it of moisture. Vines here struggle with the fruit set which results in tiny crops of small clusters. As a result, we get wines which are lean and intense with remarkable flavor, even at low alcohol levels.
---
Sanford and Benedict
The Sanford & Benedict vineyard was planted in 1971, making it one of the oldest Pinot Noir vineyards in the Sta. Rita Hills. The soils here have lower quantities of clay than other areas of the valley. They are comprised of Gazos clay loam and Santa Lucia shaley clay loam. The area receives foggy mornings and long, cool days, resulting in a longer growing season and lower yields. It has been named one of the five most important vineyards in California by Wine Enthusiast and numerous producers seek to buy its fruit each year, often creating their own vineyard designated wines from Sanford & Benedict.
---
Stowaway Vineyard
---
Hilliard Bruce
---
Region: Los Alamos Valley
Los Alamos Valley lies between Santa Maria Valley and Santa Ynez Valley. With warm days and very cold nights, the fruit from this region achieves incredible concentration and balance. Its slight, well drained soils and a wide range of microclimates allows for a diversity of varietals. Because Los Alamos Valley is not an official appellation, you won't see it on a wine label - "Santa Barbara County" is used instead. But you should not be surprised to see Los Alamos Valley vineyard names specified on the label.

Los Alamos, which means "The Cottonwoods" in Spanish, is a town just off the 101 freeway between the Santa Maria Valley and Santa Ynez Valley appellations. The area around Los Alamos has a temperate climate all its own - ten degrees cooler than Santa Ynez Valley to the south and ten degrees warmer than Santa Maria Valley to the north-east. Los Alamos Valley is bounded to the north by Solomon Hills and to the south by La Purisima Hills.
---
Black Oak
In 1994 Dan and Meghan Reeves bought a forty acre property set high in the Santa Ynez Valley foothills overlooking the town of Los Olivos. It was originally planted in 1989 and the Reeves soon grafted over to Syrah with clones from Australia and France. The three terraced vineyards range from 1000' to 1200' in elevation, providing unique growing conditions that give the grapes a distinctive flavor not found in other areas of the Santa Ynez Valley. The vines typically yield under two tons per acre. Estate clones include Syrah clone 3, estrella and clone 99.
---
Kick-On Vineyard
This is a small vineyard located in western Los Alamos, close to the Vandenberg Air Force Base. Frigid winds coming off of the cold Pacific Ocean waters flow though this vineyard daily, helping to keep it cool and dry. The soil is a very sandy loam.
---
Watch Hill Vineyard
Watch Hill Vineyard & Ranch is located in Los Alamos Valley, a relatively cool site about half-way between Santa Maria and Santa Ynez. At Watch Hill there is a large main planting of about 20 acres and a smaller 2 acre steep hillside block called "Sam's Vineyard." The almost 20 acres was planted around 2002, mostly in Syrah varietals and is managed by Coastal Vineyard Care & Associates. The soils here are a mix of sand and clay and somewhat low in nutrients. The vineyard is surrounded by a horse pasture on one side and a group of noisy chickens on the other. The grapes here ripen slowly and are usually ready for harvest in the final week of October.
---
Region: Ballard Canyon
Ballard Canyon lies in the heart of the Santa Ynez Valley AVA where the unique soils and climate of the Canyon create a great environment for producing distinctive wines from red grapes such as Syrah, Grenache, Sangiovese, Cabernet Sauvignon and Cabernet Franc and white grapes such as Sauvignon Blanc, Viognier and Roussanne.
---
Purisima Mountain Vineyard
On the western side of Ballard Canyon lies Purisima Mountain vineyard, a 365 acre, certified Biodynamic vineyard. Comprised mostly of clay and clay loam, with varying amounts of gravel, the most unique aspect of this site is the limestone subsoil. Found in great Rhône regions like Côte Rôtie and Châteauneuf du Pape, the limestone soil limits vine vigor and produces smaller vines with lower yields and more intensely flavored fruit. With peaks reaching 1,250 feet, Purisima Mountain boasts 500 feet of elevation change with multiple exposures.
---
Region: Santa Ynez Valley
Santa Ynez Valley is a long, east-west corridor with very cool temperatures on the coast that become progressively warmer inland. Consequently, several varietals do well, from Pinot Noir in the west to Cabernet and Merlot in the east. Several Rhône and Italian grape varietals have also gained acclaim in this versatile Santa Barbara County AVA. The largest concentration of wineries is in the Santa Ynez Valley appellation. From one-person labors of love to multi-thousand case operations, each has a dedication to producing wine that truly reflects the high quality and broad diversity of local grapes.
---
Curtis
Curtis Vineyard is managed by Coastal Vineyard Care and is committed to the principles of sustainable, organic, and biodynamic vineyard farming. Their low input viticulture methods ensure that the growing of thier premium grapes have minimal impact on the environment and their workers. Practices include attention to soil structure and cover crops to reduce soil erosion, use of biodegradable oils, soaps, and plant extracts for controlling pests and mildew, and introducing microorganisms into the soil to encourage nutrient cycling.
---
Region: Los Olivos District
The Los Olivos District is entirely within the Santa Ynez Valley AVA, sharing a common boundary with Ballard Canyon AVA on the west side, and sharing a common boundary with the Happy Canyon of Santa Barbara on the east side. The northern boundary incorporates for the most part a 1000-foot elevation line which separates the topographically rugged foothills of the San Rafael mountains to the north from the gentle rolling hills to the south. This 1000-foot line also marks the northern boundary limit of the Positas-Ballard-Santa Ynez soil series, the dominant soil type of the Los Olivos District. The southern boundary is defined by the Santa Ynez River, which marks a change in geology and principal soil type.
---
Camp 4
The story of Camp 4 Vineyard begins with the late Fess Parker. After purchasing the 1,400 acre property, Parker decided to plant 256 acres of grapes on the land in 1999 and it produced its first successful crop harvest in 2003. The vineyard's name, Camp 4, refers to the land being the fourth stop on a passage from San Francisco to Yuma, Arizona, during the stagecoach days. In 2010, The Santa Ynez Band of Chumash Indians purchased the property. The vineyard is situated on the eastern most edge of Santa Ynez Valley and serves as the gateway into Happy Canyon. The vineyard is home to 19 varietals focusing on Rhone and Bordeaux grapes and provides an ideal microclimate for these varietals with a long growing season and maximum flavor development.
---
Quarto Vientos
---
Region: San Luis Obispo County
San Luis Obispo County, on California's Central Coast, has one of the longest winegrowing histories in North America, with vineyards planted by Spanish missionaries over 200 years ago. A maritime influence affects the southern AVAs, as their east-west valleys allow cool Pacific breezes and coastal fog to enter unencumbered. After a long dormancy, modern commercial viticulture began in the early 1970s, acreage of vine has increased almost four fold since 1990, with close to 25,000 acres currently under vine.
---
Alamo Creek Vineyard
About fifteen miles east of Nipomo are a series of vast ranches nestled against the rugged terrain of the Los Padres National Forest. In this little visited pocket of San Luis Obispo County, sits Alamo Creek Ranch, a rugged and beautiful 2,017-acre ranch that the Land Conservancy has permanently preserved for wildlife and agriculture. Alamo Creek Ranch sits in the shadows of Stanley Mountain (elevation 2,500 feet) where the land drains to Alamo Creek and the Cuyama River below. These waterways feed a reservoir that serves as a source of drinking water for nearby communities. The property contains nearly forty acres of prime soils that support organically grown wine grapes, and a modest herd of cattle grow fat on the land each year.