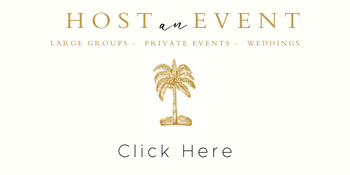 October 2023
Tuesday Movie Nights
5:30 PM
Tue, Oct 3, 2023 - Tue, Oct 31, 2023
Venue:
Santa Barbara Tasting Room
Contact:
MOVIE BEGINS AT 5:30PM IN THE SANTA BARBARA TASTING ROOM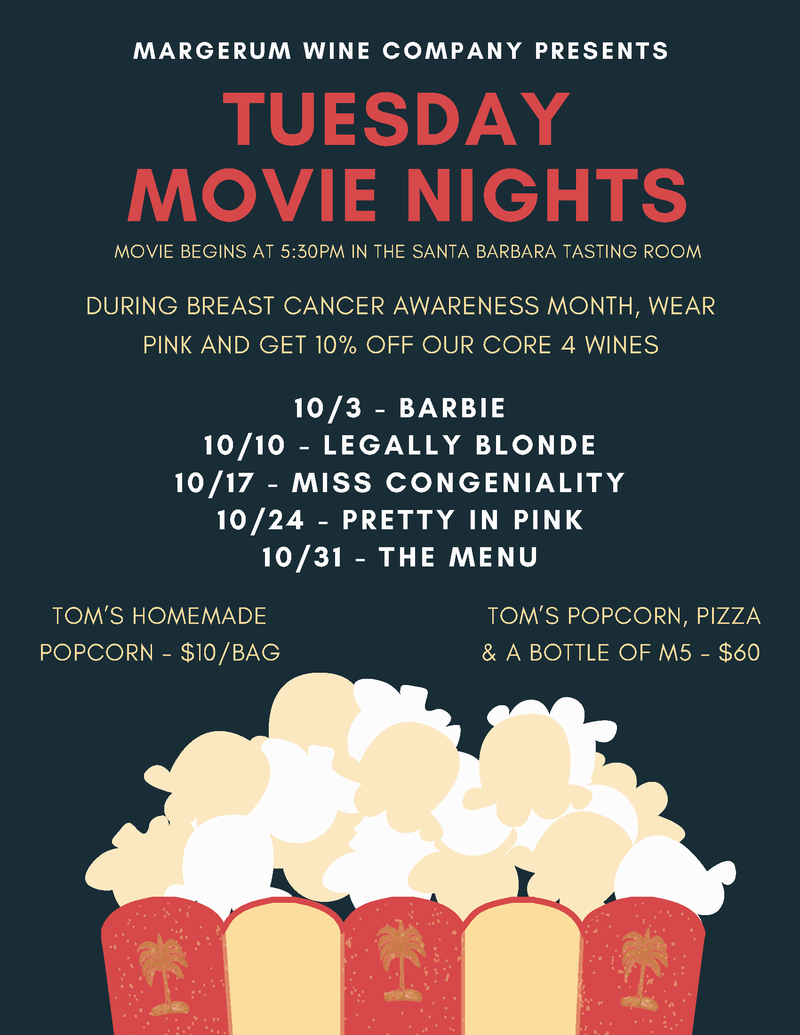 October Acoustic Nights
4:30 PM to 6:30 PM
Thu, Oct 5, 2023 - Thu, Oct 26, 2023
Venue:
Santa Barbara Tasting Room
Contact:
Thursdays 4 : 3 0 - 6 : 3 0 P M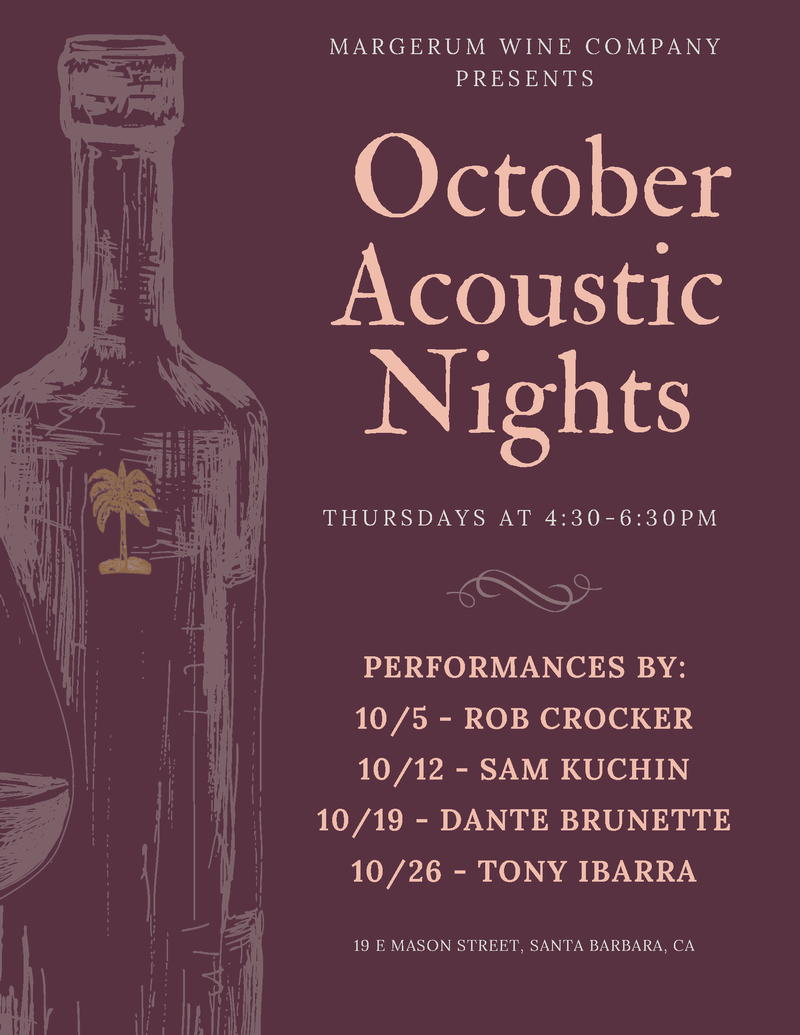 Sip & Savor and 2020 Blanc de Blancs Release
11:00 AM to 2:30 PM
Sun, Oct 8, 2023
Venue:
Santa Barbara Tasting Room
Sip & Savors are a five course, highly curated tastes and small bites prepared by Doug Margerum and Executive Chef, Carolyn Kope, matched to five specific wines from our Library. This special event will be held in the upstairs Mezzanine and the downstairs bar counter.
Additionally, we plan to start the Reception with the release of the 2020 Barden Blanc de Blancs, our second vintage of 100% Chardonnay from the Sta. Rita Hills.
Anyone interested in exploring the marriage of food and wine should absolutely join us for this very fun and engaging event. Please click here to buy your tickets. We hope you can join us for this limited seating event!!
$100 per person. Wine Club discounts apply. For any questions, please contact lisa@margerumwines.com.
39th Anniversary of Santa Barbara Wine Country's Vintners Festival
12:00 PM to 4:00 PM
Sat, Oct 14, 2023
Venue:
Vega Vineyard & Farm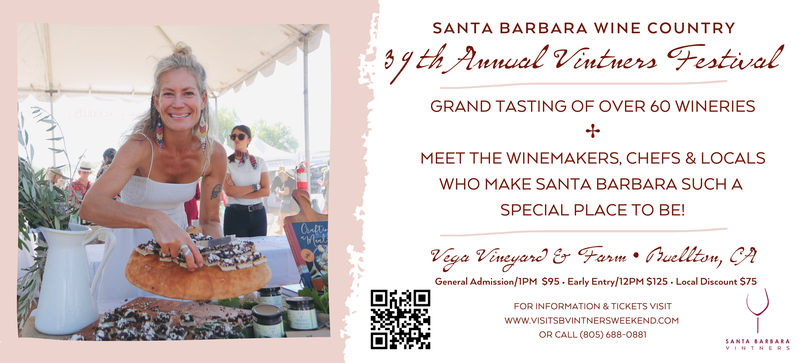 2023 Santa Barbara Vintner's Festival
12:00 PM to 4:00 PM
Sat, Oct 14, 2023
Venue:
Vega Vineyards
In its 39th year, the Santa Barbara Vintners Festival is truly the Original Santa Barbara Wine Festival.

Taste wines from 50+ wineries and savor regional cuisine from dozens of restaurants, chefs, and food producers. Meet winemakers and winery owners and learn first-hand why Santa Barbara County was named 2021 Wine Region of the Year by Wine Enthusiast Magazine. Stop by the Bubble Lounge to sample the region's best sparkling and enjoy live music and culinary and viticulture demonstrations.

An Early Entry Admission ticket grants access to the festival at noon, 60 minutes prior to General Admission tickets, providing the opportunity to interact more personally with winemakers, owners, and chefs in a more spacious, open, and uncrowded environment.
Click here to buy tickets.
Margerum Fall Wine Club Pick-Up Party
11:00 AM to 2:00 PM
Sun, Oct 15, 2023
Venue:
Estate Vineyard in Los Olivos
The Fall Wine Club Pick-Up Party is for Wine Club Members only and their guests. The changing seasons in Santa Barbara Wine Country is a gorgeous time of year and we take full advantage of the color change at our Estate Vineyard in Los Olivos. Set amongst our vineyards, nestled below ancient oaks, the Estate Vineyard is an exquisite location for this special event. A special catered meal will accompany this day along with live music and selections from our Library and Current offerings. For questions, please contact our Wine Club Manager at kristin@margerumwines.com.
November 2023
Black Oak Vineyard Syrah Vertical Tasting
4:00 PM to 6:00 PM
Sun, Nov 12, 2023
Venue:
Santa Barbara Tasting Room
Nestled deep in the canyons of Los Alamos and in the newly formed Alisos Canyoon AVA, is the old gnarled vine Black Oak Vineyard. For over twenty years Margerum has produced legendary and loing-lived wines from this special, low yielding and sandy site. On November 12, we plan to open at least twelve different years of this wine to revel in its unique terroir and specialness.
Because of how rare some of these bottlings are, we have to limit this event to the first twenty-four people.
We hope you can join us for this special deep dive tasting of one vineyard over the course of 15+ years of bottle age.
$75 per person.
Cheese and Charcuterie boards will accompany this tasting.
March 2024
2024 Cruise Through Provence with Doug Margerum
Thu, Mar 21, 2024 - Thu, Mar 28, 2024
Venue:
Provence, France
With Doug Margerum as your host, you will visit romantic cities to foodie havens and artistic epicenters. You will savor the beauty of legendary vineyards and imbibe in local vintages like Beaujolais and Côtes du Rhône. Become an expert in all things culinary: the highly prized "Black Diamond" truffles; learn how to pair chocolate with wine; and enjoy specially curated food and wine pairing dinner on board. During this wine­ themed journey, you'll indulge in several wine tastings at traditional wineries and hike through vineyards, all while learning about the history and techniques of winemaking both on board and on shore. This journey is a must for anyone interested in the best of French wine and cuisine. To secure your spot or for any questions, please contact Heather@RobertsonTravel.com. Book early for discounts.