Wild Mushrooms and Feta in Phyllo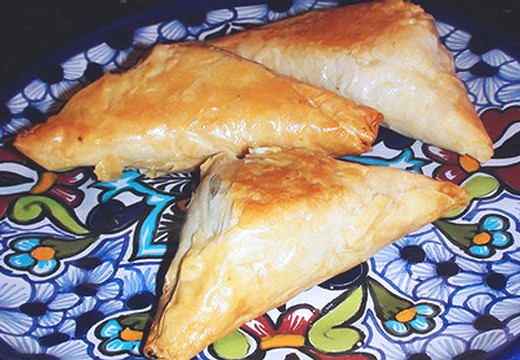 Recipe Date:
March 15, 2016
Measurements:
Imperial (US)
Ingredients
4 tbsps butter
1 bunch or green onions, chopped
4 cloves garlic, minced
1 cup feta, crumbled
1 cup toasted bread crumbs
2 cups sliced wild mushrooms (shiitake, chanterellls or crimini)
2 eggs, beaten
1/2 tsp nutmeg
2 tbsps chopped dill
1/4 cup lemon juice
1/4 cup pine nuts
salt, pepper & cayenne
1 box phyllo
Directions
Saute mushrooms and garlic in butter. Add rest of ingredients and set aside. Using 3-4 sheets of phyllo, cut lengthwise into 4 long strips. Cover with damp cloth. Take two strips and lay them out on top of the other. Lightly brush with oil. Place about one tablespoon of filling at the bottom of the strip. Fold one corner over the filling, alternating from left to right until you reach midway. Brush the pastry again with a little butter or oil. Continue folding to the end. Place the triangle seam side down on a greased baking sheet. Brush top with more butter or oil. Bake at 350 degrees until golden brown (approximately 20 minutes).