Turkey Bolognese with Roasted Cauliflower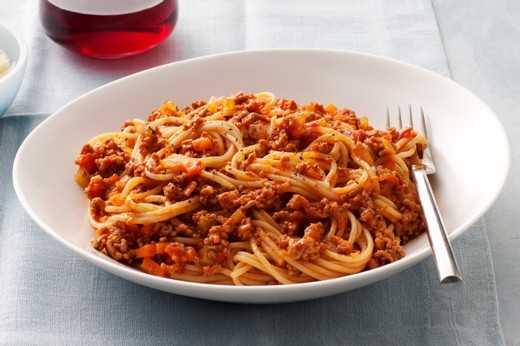 Recipe Date:
January 5, 2017
Measurements:
Imperial (US)
Ingredients
1 One Carrot
1 One Stalk Celery
1 One Onion
4 tbsps Butter, divided
4 tbsps Cooking Oil, divided
1 lb Ground Turkey
Red Pepper Flakes
1/4 cup Parsley
Oregano
Thyme
Chopped Tomatoes + Juice
1 14 oz. can Tomato Sauce
1 Head Cauliflower
1/2 cup Grated Parmesan
1/4 cup Chopped Basil
Margerum Extra Virgin Olive Oil
Directions
Heat oven to 350
Slice cauliflower into 1 inch wedges. Put in bowl and toss with 2T olive oil and 2T melted butter salt and pepper. Arrange on baking sheet and roast 15 minutes on each side. Remove from oven and add Parmesan cheese and basil. Put back in oven for 5 minutes until cheese melted.
Heat large frying pan or dutch oven over medium heat and add butter and olive oil. Sautee celery, onions and carrots until tender, about 5 minutes. Add ground turkey, parsley, oregano, thyme and red pepper flakes. Cook 5 minutes. Add chopped tomatoes and tomato sauce. Reduce heat and simmer 15 minutes.
Arrange cauliflower on plates. Spoon Bolognese over the top.
Drizzle with Margerum Olive Oil.
Drink with: This dish goes great with our lighter red wines.
Try it with Margerum Grenache or Barden Pinot Noir.