Spanokopita Diamonds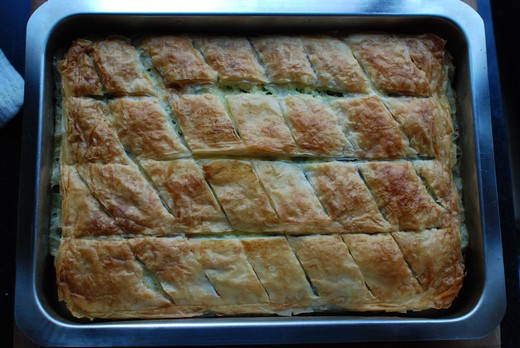 Recipe Date:
March 15, 2016
Measurements:
Imperial (US)
Ingredients
1 box phyllo
2 1-1b package frozen spinach (thaw & squeeze)
2 bunches green onions
4 cloves garlic
2 cups feta
2 cups toasted bread crumbs
4 eggs, beaten
1/2 tsp nutmeg
2 tsps chopped dill
1/4 cup lemon juice
1/4 cup pine nuts
salt, pepper & cayenne
Directions
Brush sheet pan with melted butter. Layer with phyllo dough and butter; when pan is over 1/3 full, press filling in. Continue with phyllo and butter. Seal with butter. Score in long lines lengthwise then in diagonal lines lengthwise to create oblong diamonds one inch thick. Bake at 350 degrees for 20 minutes until golden brown. May need to re-crisp before serving.