Seared Ahi with Mushroom Risotto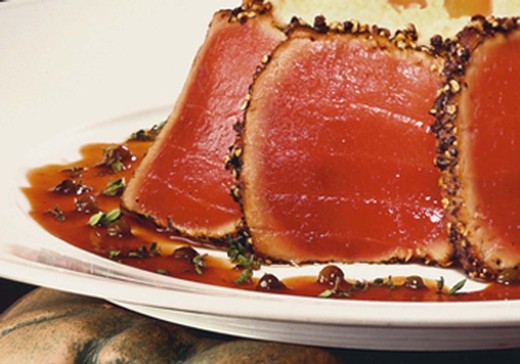 Recipe Date:
October 1, 2015
Measurements:
Imperial (US)
Lightly seared Ahi Tuna, crusted in a colorful mix of peppercorns compliment a luxurious creamy risotto chock full of wild mushrooms.
Ingredients
1 lb Ahi Tuna Loin
2 tbsps Crushed peppercorns (Black, White, Pink)
6 cups Chicken Broth, heated
4 tbsps olive oil
2 tbsps unsalted butter
2 lbs wild mushrooms, sliced
2 shallots, diced
1 1/2 cups arborio rice
1/2 cup dry white wine
1/3 cup grated Parmagiano Reggiano
Fried Leeks (recipe follows)
1/4 cup Ponzu Sauce
Directions
Risotto:
In a saucepan, warm butter and olive oil stir in shallots and cook for a minute, stir in rice and saute for a minute or two stirring. Add in wine, stirring constantly until the wine gone. Add broth to the rice and stir until the broth is absorbed. Continue adding broth stirring continuously, until the liquid is absorbed and the rice is al dente, about 15 to 20 minutes. Remove from heat, and stir in mushrooms and parmesan. Add salt and pepper to taste.
Tuna:
Roll the tuna over the Peppercorns and pat to make a crustMelt the butter with the oil in a skillet over medium-high heat. Place the seasoned tuna in the skillet and sear to 1 to 1 1/2 minutes per side for rare. Put on cutting board and slice on the bias.
Fried Leeks:
Vegetable oil
2 large leeks and thinly julienne white part and a bit of the green.
1⁄2 cup cornstarch
fine sea salt
In a medium sauce pot heat oil to 350 degrees F.
Dust leeks very lightly cornstarch and fry until golden brown. Drain on a paper towel. Season with sea salt.
Serve sliced Ahi over Risotto, pour Ponzu over the top – 2 to 4 tablespoons per plate and garnish with leeks.