Skip to content
Santa Maria Tri-tip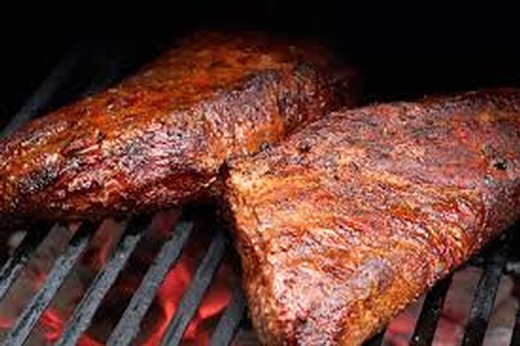 Measurements:
Imperial (US)
Ingredients
2 tbsps garlic powder
1 1/2 tbsps kosher salt
1 tsp black pepper
2 tsps dried parsley
1 beef tri-tip (2 to 2 1/2 pounds), preferably with some fat on one side
Directions
In small bowl, mix garlic powder, salt, pepper and parsley; rub well into meat. Let stand 30 minutes at room temperature.
Meanwhile, soak 2 cups red oak chips in water for at least 20 minutes (optional). Prepare a medium-size fire on one side of a charcoal or gas grill. Add chips to fire, if using. Set tri-tip over fire, fat side up (with a gas grill, close lid), and brown well, 3 to 5 minutes; turn over and brown other side.
Move meat over area of the grill without fire, cover, and turn every 10 minutes or so, until an instant-read thermometer inserted into thickest part registers 125 to 130 degrees, 25 to 35 minutes.
Place meat on cutting board to rest at least 15 minutes. Slice across the grain.