Orzo with Roasted Vegetables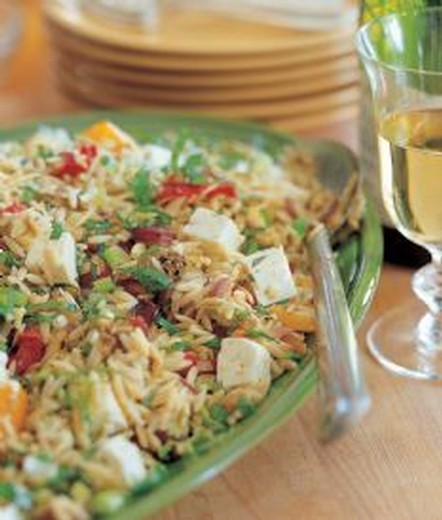 Recipe Date:
March 26, 2015
Measurements:
Imperial (US)
Ingredients
1 small eggplant, peeled and 3/4-inch diced
1 red bell pepper, 1-inch diced
1 yellow bell pepper, 1-inch diced
1 red onion, peeled and 1-inch diced
2 garlic cloves, minced
1/3 cup good olive oil
1 1/2 tsps kosher salt
1/2 tsp freshly ground black pepper
1/2 lb orzo
1/3 cup freshly squeezed lemon juice (2 lemons)
4 scallions
1/4 cup pine nuts, toasted
3/4 lb good feta, 1/2-inch diced (not crumbled)
15 fresh basil leaves, cut into chiffondae (or you can substitute arugula or spinach)
Directions
Preheat the oven to 425 degrees F.

Toss the eggplant, bell peppers, onion, and garlic with the olive oil, salt, and pepper on a large sheet pan. Roast for 40 minutes, until browned, turning once with a spatula.

Meanwhile, cook the orzo in boiling salted water for 7 to 9 minutes, until tender. Drain and transfer to a large serving bowl. Add the roasted vegetables to the pasta, scraping all the liquid and seasonings from the roasting pan into the pasta bowl.

For the dressing, combine the lemon juice, olive oil, 1 tsp salt, and 1/2 tsp pepper and pour on the pasta and vegetables. Let cool to room temperature, then add the scallions, pignolis, feta, and basil. Check the seasonings, and serve at room temperature.