Skip to content
Lemongrass-Barbecued Pork with Rice-Vermicelli Salad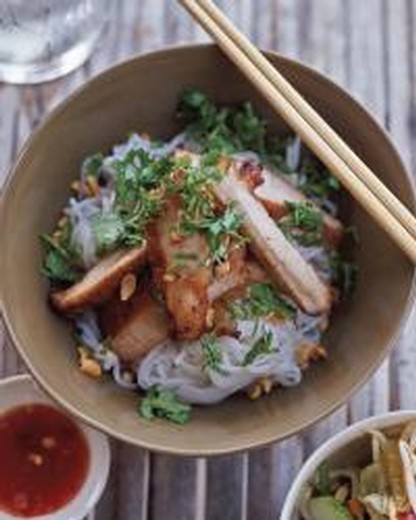 Measurements:
Imperial (US)
Ingredients
4 large garlic cloves
3 stalks of lemongrass, white parts only
2 large shallots, thickly sliced
1 1/2 tbsps sugar
3 tbsps Asian fish sauce
3 tbsps fresh lime juice
3 tbsps vegetable oil
2 tbsps soy sauce
1 1/2 lbs pork loin, thinly sliced
For Rice Vermicelli Salad
1/2 lb rice vermicelli noodles
4 garlic cloves
3 Thai chilis, or jalapenos, thinly sliced
3 tbsps sugar
1/4 cup Asian fish sauce
1/2 cup finely chopped cilantro
1/2 cup finely chopped mint
1/4 cup fresh lime juice
1/3 cup water
2 large cucumbers—peeled, halved lengthwise, seeded and thinly sliced crosswise
Directions
In a food processor, finely chop the garlic, lemongrass and shallots. Add the sugar, fish sauce, lime juice, vegetable oil and soy sauce and process to a paste. In a large shallow dish, coat the pork with the marinade. Cover and refrigerate for at least 1 hour.
In a large bowl, cover the rice vermicelli with cold water and let soak until pliable, about 20 minutes.
In a mortar, using a pestle, pound the garlic cloves to a paste with the chiles and sugar. Stir in the fish sauce, cilantro, mint, lime juice and water.
Bring a large saucepan of water to a boil over high heat. Drain the rice vermicelli and add it to the boiling water. Cook, stirring, until barely tender, about 1 minute. Drain the vermicelli. Rinse the vermicelli in cold water and drain thoroughly. Transfer the vermicelli to a large bowl, add the cilantro-and-mint dressing and toss well. Scatter the sliced cucumbers over the rice-vermicelli salad.
Light a grill. Lift the pork slices from the marinade, leaving on some of the flavorings. Grill the pork over a hot fire until nicely charred, about 2 minutes per side. Transfer the pork to plates and serve with the rice-vermicelli salad.