Skip to content
Leg of Lamb Shawarma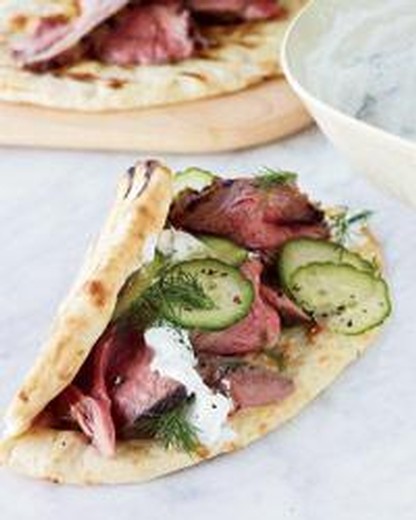 Measurements:
Imperial (US)
Ingredients
1/4 cup roasted garlic
2 tbsps extra-virgin olive oil, plus more for drizzling
2 lemons, zested and juiced
1 tsp sweet paprika
1 tsp ground cumin
1 tsp ground coriander
1/2 tsp cinnamon
kosher salt and black pepper
5 lbs leg of lamb, butterflied (ask your butcher to do this)
grilled flatbread, for serving
tsatziki, for serving
sliced cucumbers, for serving
Directions
Squeeze the garlic cloves into a bowl and mash with a fork. Stir in the lemon zest, lemon juice, paprika, cumin, coriander, cinnamon and the 2 tablespoons of olive oil. Add 1 teaspoon of salt and 1/2 teaspoon of black pepper.
Lay the lamb on a work surface and make 1/2-inch-deep slits all over the meat. Transfer the lamb to a rimmed baking sheet and spread the spice paste all over, rubbing it into the meat. Cover and refrigerate overnight.
Light a grill. Bring the lamb to room temperature and season with salt and pepper. Grill the lamb fat side down over moderately high heat until charred, about 20 minutes. Turn the lamb and grill for about 20 minutes longer, until an instant-read thermometer inserted in the thickest part registers 130° for medium meat. Transfer the lamb to a work surface to rest for about 15 minutes.
Carve the lamb into thin slices and serve it with grilled flatbread, dilled yogurt and sliced cucumbers.