Grilled Salmon Kebabs with Dill Yogurt Sauce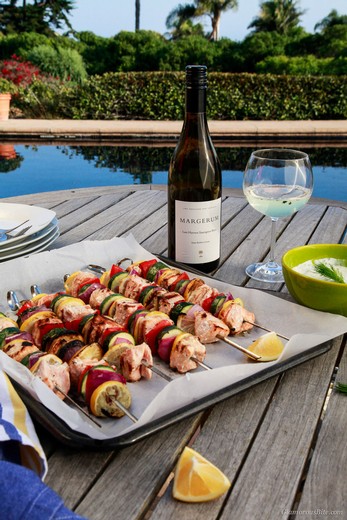 Recipe Date:
June 27, 2015
Measurements:
Imperial (US)
Fresh Salmon kebabs with a tangy dill yogurt sauce, a backyard twist on Scandinavian flavors.
Ingredients
3 tbsps olive oil
1 tbsp honey
2 tbsps fresh lemon juice
2 tbsps dried herb mix of oregano and basil
pinch of red pepper flakes
salt and pepper
2 lbs fresh salmon filet - cut into 1 inch cubes
1 zucchini - cut into 1/4 inch rounds
1 red bell pepper - cut into 1 inch cubes
1/2 red onion - peeled, cut into 1 inch cubes
2 lemons, thinkly sliced
1 cup Greeek yogurt
2 garlic cloves, finely chopped
2 tbsps lemon juice
1 tsp Dijon mustard
1 tsp honey
fresh dill
Directions
1. In a small bowl mix together olive oil, honey, lemons, dried herbs, crushed pepper flakes and salt and pepper. Set aside

2. Slide alternately salmon cubes and vegetables on the skewers. Lay the prepared kebabs on parchment paper lined baking tray and brush all sides with the marinade. Let the spices infuse at least 30 minutes.
3. Prepare BBQ for medium heat.
4. Grill for about 6 to 8 minutes or until fish becomes opaque. Start with 3 minutes on one side and gently turn over using stainless steel tongs (not plastic, because it can melt).
5. Mix yogurt with remaining ingredients to serve on the side.