Roasted Lamb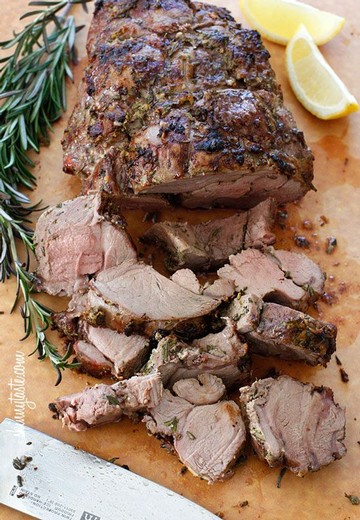 Recipe Date:
March 17, 2015
Measurements:
Imperial (US)
Ingredients
5 Cloves Garlic, crushed
2 tbsps fresh squeezed lemon juice
3 tbsps fresh chopped rosemary
1 tbsp Dijon Mustard
2 tsps olive oil
1 1/4 tsps Salt (more or less to your taste preferences)
4 lbs boneless leg of lamb
Directions
Preheat oven to 375ºF. Line a roasting pan with aluminum foil and place a rack in the pan.
Combine crushed garlic, rosemary, lemon juice, mustard, olive oil, salt and pepper;mix well and rub mixture all over lamb. Roll the lamb and use butcher's twine to tie it together and place it on the prepared roasting pan.

Roast in the oven until medium-rare and a meat thermometer inserted in center reads 135-140ºF, anywhere from 70 minutes and up depending on the size of your roast.Remove the lamb and let it rest about 15 minutes on a cutting board. Keep in mind the temperature will increase a few degrees once it rests.

Slice lamb into 1/4-inch thick slices and place on a serving platter.