Crab Stuffed Mushrooms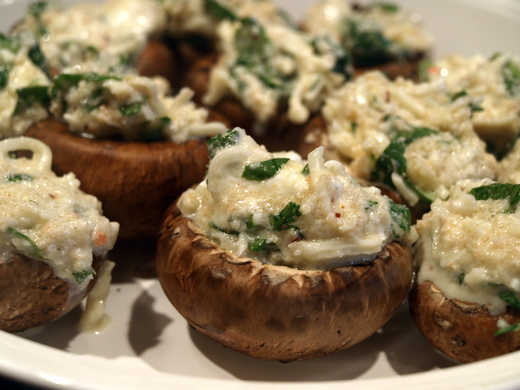 Recipe Date:
May 30, 2015
Measurements:
Imperial (US)
Stuffed mushrooms are always a hit at a cocktail party. You can eat them with one hand, they look fancy and you can prep them in advance and throw in the oven as your guests arrive. Win, Win, Win!
Ingredients
1 cup fresh crabmeat
1/2 cup cream cheese
1/2 cup chopped parsley leaves
1/2 cup green onions, chopped
4 tbsps freshly grated Parmesan
1/2 tsp kosher salt
1/4 tsp black pepper
2 portobello mushroom caps
1/2 cup Bread crumbs
Directions
Preheat the oven to 375 degrees F.
Combine the crabmeat, cream cheese, parsley, green onions and Parmesan. Season with salt and pepper, to taste. Stuff the mushroom caps with the mixture and top with bread crumbs. Spray the tops with nonstick spray to help them brown. Transfer to the oven and bake for about 20 minutes, or until the filling is hot and melted.