Chicken/Beef Satay Skewers with Spicy Peanut Sauce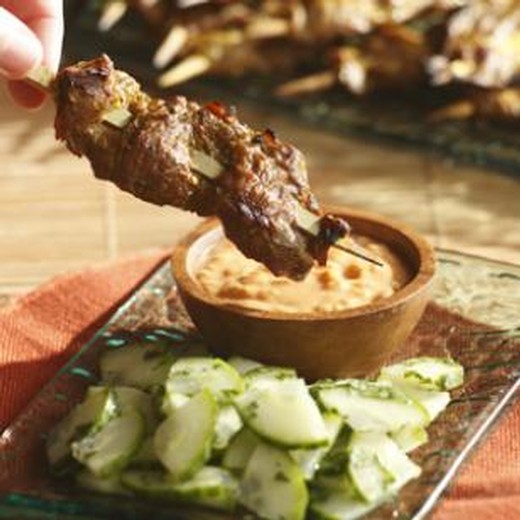 Recipe Date:
March 15, 2016
Measurements:
Imperial (US)
Ingredients
8 tsps corn oil (1/4 cup)
4 tsps sesame oil
1 cup minced red onion
4 tbsps minced garlic
2 tbsps minced ginger
2 tbsps red wine vinegar
2 tbsps sugar
2/3 cup peanut butter
6 tbsps ketchup
1 tsp coriander
2/3 cup hot water
6 tbsps soy sauce
1 tsp ground black pepper
tabasco to taste
1/2 cup sesame oil
1/2 cup corn oil
1 cup sherry
1 cup soy sauce
2 tbsps minced garlic
2 tbsps minced ginger
1 tsp salt and peper
1 tsp tabasco
Directions
The first 15 ingredients are for the peanut sauce. Heat the oils; add onion, garlie and ginger. Saute 5-7 minutes. Add vinegar and sugar, stirring 3-4 minutes until carmelized. Take off heat and add other ingredients.
The remaining ingredients are the marinate for the skewer meat.