Margerum Wine Company to Open Pop-Up Tasting Room in the Hamptons During July 4th Weekend
May 21, 2019, Amagansett, NY — Santa Barbara County's popular Margerum Wine Company and sister label, Barden, will be making their home at Destination Haus in the Hamptons for a pop-up tasting room during July 4th weekend, bringing a taste of California to Long Island's seaside community of Amagansett. The pop-up is scheduled from Friday, July 5 through July 7, 2019, from 12:00 p.m. – 6:00 p.m. or by appointment, with other dates to be announced.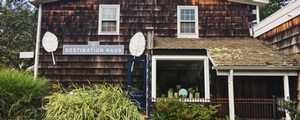 Margerum Wine Company and Barden are owned by Winemaker Douglas Barden Margerum, who has been producing world-class wine in Santa Barbara, California since 2001. Sourcing grapes from top vineyards throughout Santa Barbara County, as well as from their 18-acre estate vineyard, Margerum crafts limited-production wines that are indicative of the region, including Burgundian varietal wines for Barden and Rhone-focused blends for Margerum Wine Company.
Kicking off the weekend of the 4th of July at Destination Haus, the Margerum Wine Company pop-up tasting room will afford wine aficionados and wine lovers the chance to taste through the range of Margerum's eponymously named wine in a setting of art, style and handcrafted goods at the Haus. "We're honored to be sharing our wines with the Hamptons community this summer," shares Margerum. "Our wines are generally only available from selected retailers and fine dining restaurants, so this will be a rare opportunity to not only sample Barden and Margerum wines inside the art-savvy Destination Haus, but to purchase them as well." The Margerum lineup includes Sybarite Sauvignon Blanc; UBER Syrah (a blend of Syrah grapes from Santa Barbara County's best vineyards); Riviera Rosé (made primarily from Grenache grapes); the flagship Rhône Varietal Red Blend M5 (blended from Grenache, Syrah, Mourvèdre, Cinsault and Counoise grapes); and the M5 White (blended from Grenache Blanc, Roussanne, Marsanne, Viognier and Vermentino). From the Barden portfolio, guests will be able to taste Vin Gris of Pinot Noir; Fonte (a blend of Chardonnay Pinot Blanc and Pinot Gris); Chardonnay and Pinot Noir all from the famed Sta. Rita Hills AVA in Santa Barbara County.
Friday, July 5 – Sunday, July 7, 2019, from 12:00 p.m. – 6:00 p.m. or by appointment.